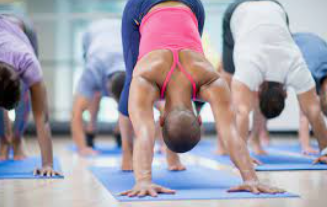 Testimonials for Group Classes
I want to thank you for all the information and yoga techniques you taught me in the last few weeks, my back is pain free for the first time in a long time. I'm continuing with the exercises and looking forward to getting back to your classes. Thank you so much.
Fiona April 2020
I've experienced back pain for years due to old sporting injuries. After just one class with Patricia my pain went and I could move again with ease – absolutely amazing!
Tony Lawlor, September 2019
I have been attending classes with Patricia for almost a year, Patricia takes a real interest in each student. She explains everything clearly and adjusts poses to suit individual's ability and flexibility. Her classes are very relaxed and informative. I have found that I get a good workout while also de-stressing. Highly Recommended!!!!"
David Curry, February 2019
Thank you for the enjoyable classes and your gentle instruction. They are a pleasure to attend.
Noreen Goulding, Dec 2018
I am loving both the Yoga and the Pilates classes. They have done me the world of good, I can see the difference. Don't think I could have run the marathon on Saturday without having taken those classes over the last few months.
Odran Rogers, June 2018
I was unsure whether Yoga was for me initially, but having joined Patricia's classes I can honestly say that I can see the benefits already. It is an enjoyable experience, mentally and physically which I would highly recommend to anyone.
Mary O'Brien 2018
Extract from an Interview with Aoife McManus in Yoga Therapy Irelands Magazine:
Aoife works as a fitness trainer at Westwood Leopardstown Gym, teaching a variety of Les Mills Fitness Classes, Body Pump, Body Balance and CXWORK and now also works as a Yoga teacher in Kingswood Tallaght, sharing her passion for Yoga and the benefits it can have on body and mind.
Aoife's love of Yoga started when she attended classes with Butterfly Yoga & Pilates. The teacher there, Patricia Hunt, is just amazing and also YTI trained. Her classes with Patricia inspired her to become a Yoga teacher herself.
Aoife McManus 2018
Attending Patricia's weekly class is inspiring, encouraging & invites you to step onto a path of awareness & gratitude, realising the wisdom & wonder of our moving bodies! Each class has a freshness about it, carefully designed to evoke a growing awareness of the inner & outer support mechanisms of the body. Within such a welcoming environment, with a variety of yoga, pilates & somatic exercises, both the beginner & more advanced student are equally welcomed & stretched-a winning combination where you go at your own pace!
Anne, Jan 2015
I was unsure whether Yoga was for me initially, but having joined Patricia's classes I can honestly say that I can see the benefits already. It is a fabulous experience, mentally and physically which I would highly recommend to anyone.
Claire White, Dec 2014
After only a few months I feel the benefit in both body and mind.
Paula Chambers, Dec 2014
I have been practising yoga on and off for many years – and across 3 continents. I have experienced a variety of instructors and teaching methods. When I returned to Ireland in 2012, I tried to locate a yoga instructor that I trusted and enjoyed, without much success. Then I met Patricia and have been spoilt. Patricia's yoga classes are developed to suit the individual and collective needs of yogi's. She has an amazing ability to make you feel like you're the only person in the room with her. With a mix of levels in the one class it really doesn't matter if you are a beginner or advanced – Patricia is able to somehow respond to each of your needs. The classes are enjoyable, peaceful, relaxing while at the same time challenging. Patricia will spend extra time to respond to your individual, specific needs as they relate to the body and how yoga can respond and may well change her lesson plan to suit. The mix of yoga and Pilates is as added bonus. I will allow nothing to interfere with my weekly scheduled yoga class with Patricia!
Toni, Sept 2014
I have been attending Patricia's Yoga classes for the last year and I can honestly say they have been hugely beneficial. My general fitness has improved, my back problems have disappeared, and my posture is better than it has ever been. The classes are very enjoyable, and Patricia is so helpful and patient when teaching new poses and exercises. They give me both a great energy boost and have helped me to learn much-needed relaxation techniques. Yoga is a very important part of my life now, thanks to Patricia.
Helen Browne, Sept 2014
I love Patricia's classes on several levels….the calmness she exudes, the empathy she shows, her gentle teaching style with her ready sense of humour and the variety of relaxation techniques she employs to wind down each class. Always a lovely energy in her classes.
Anne Sweeney, March 2014
My yoga class with Patricia is the highlight of my week. I've been attending Patricia's classes for two years and she is a wonderful teacher, mentor and guru. Her in-depth knowledge of yoga means that she can modify any position to suit her clients' specific needs. Thanks to Patricia I now enjoy all the benefits that yoga brings: increased flexibility, strength, balance and wellbeing. Yoga truly is a remedy to our hectic lives.
Elaine McCabe, Dec 2013